Typical local craftsmanship
We safeguard ancient artisan crafts
Ours is an authentic and traditional craftsmanship made of love and passion for our land, Pollino and Calabria , our artisans are custodians of ancient traditions and through their extraordinary artefacts they express the true identity of our territory.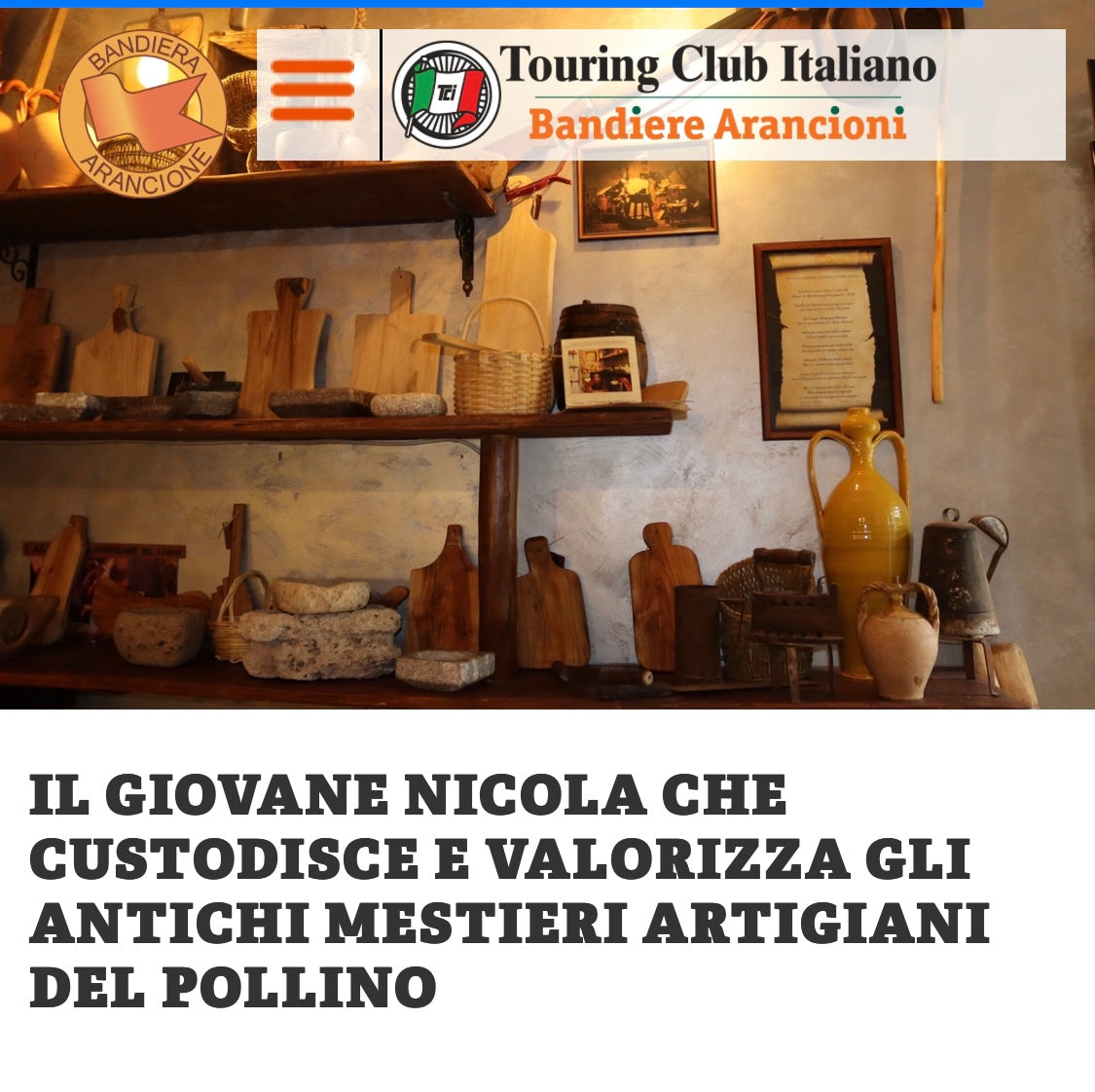 About us
" In Morano Calabro , Orange Flag of the Italian Touring Club , where he was born and returned after several experiences abroad, he opened his workshop/museum.
The Orange Flag Touring Club wrote an article about our project
Discover our project
The art of the stonemason
Salaturo: large terracotta jar for brine, typical ancient handmade style
Regular price
Sale price
$69.00 USD
Unit price
per
Sale
Sold out
Share
View full details
Craftsmanship is an important resource for our territory
Our territory boasts millenary traditions but unfortunately we are selling our villages emptying, craftsmanship represents an important resource for investing hand in hand with digital. and to help younger people rediscover the ancient crafts of the past, today thanks to online it is possible to make their creations known even outside our territory.
Stonemasons, basket makers, shoemakers, carpenters, sculptors and ceramists are just some of the ancient artisan professions that were present in Morano Calabro

 

and throughout the territory of the Pollino National Park , the largest protected green area in Italy, an uncontaminated territory rich in history and culture where people lived mainly from agriculture and sheep-rearing.
Craftsmanship played a fundamental role because indispensable tools were created which could not be done without, for example , wooden sticks were useful to the shepherds for grazing animals ,

 

the
 

fuscelle

 

they did

 

from containers

 

for the cheese ,

 

a whole series of kitchen utensils were created by hand in copper, wood and stone , just like the mortar , for example our grandmothers used to crush salt in blocks ,

 

with clay they were created plates and other utensils ,

 

not to mention the importance of shoemakers.
With globalization and the advent of plastic these ancient artisan crafts are gradually disappearing , our goal is to create value for these noble arts and thus enhance them
Discover the traditional artifacts click
here
Our shop
Our shop
We are in Morano Calabro (Cs) in Via Ferrante 10, Pollino National Park
Open from Tuesday to Sunday
from 9.30 to 13.00 and from 15.00 to 20.00
300 m from the Norman-Swabian castle
Ask for directions
Each handcrafted creation is unique, an original and unforgettable gift
When you purchase a handmade creation you can be sure of the originality of that product which was made with love exclusively for you who own it.
In our shop you will find a series of unique items made by the skilled hands of expert craftsmen, which you can use both for their functionality and for their ornamental value capable of embellishing your home with a unique object.
furthermore, these products are immutable over time given the quality of the materials with which they were made and the manufacturing techniques that highlight their characteristics.
Throughout life there will be many special and unrepeatable events and occasions such as Graduations, Retirements, Anniversaries, Golden or Silver Weddings, up to many birthdays of loved ones. choose craftsmanship Artifacts can be an excellent special gift idea .